Being a parent is a tough job
Note: This Test is Not Available to USA Residents
 Our Children's DNA Discovery Test will analyse your child's DNA for height and athletic potential, memory, whether a child is an evening or morning person, becoming overweight and other important factors.
Why Do You Need This Test?
Every parent has an idea of how they want their kid to turn out, but would you believe that there is actually a way to predetermine some of this information based entirely on their DNA sequence? If it sounds like the future it isn't – it is the present and comes in the form of a test called the Children's DNA Discovery Test.  The main goal of this test is to find out what kind of personality and physical traits your child will likely have, and to make informed choices and decisions which will help maximize your child's potential. The test is extremely quick and easy and takes just a few minutes. Samples are collected using a home kit which will be sent to you once we process your order. Inside the kit you will find two pairs of swabs per child tested, instructions and consent forms.
Collecting samples is as simple as swabbing the inside of your little one's cheeks gently with both pairs of included swabs to obtain a DNA sample. Once done and the swabs are dry, you can return them for testing in the laboratory. The results just might surprise you!
What Are The Results?
View a sample result by clicking the below image: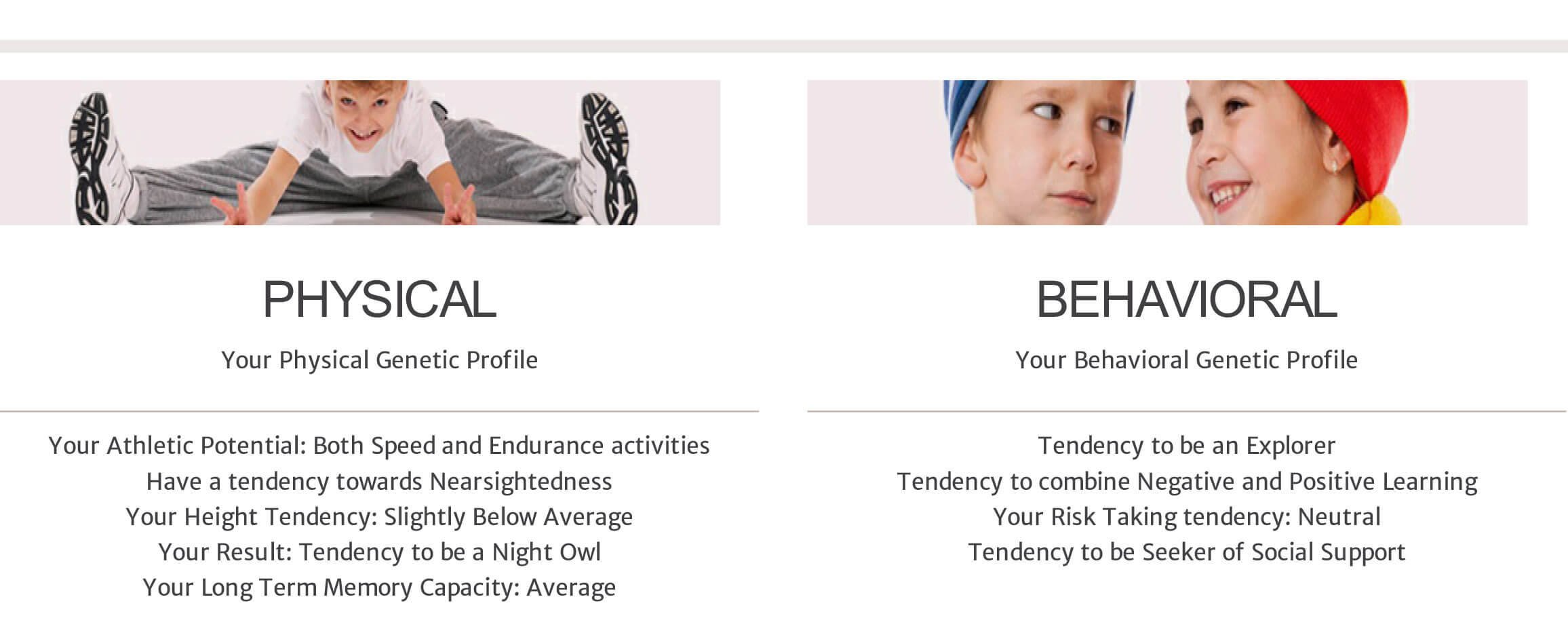 Surely you must be curious about what the results will show. Well, here is the basic rundown of the results.
Nocturnal or Early Bird – many parents are not aware of this, but the sleeping patterns of your little one can be discovered at an early age through their DNA. Knowing this can help you work out timetables, schedules and help in career decisions.
How Tall? – Are you wondering if you are raising the next big basketball star? The test will be able to identify whether your child will be tall, average, or short.
Memory – everyone knows memory is important. You can use the results to see if your child is going to be forgetful, or remember every little detail in both school and home life.
Vision Problems – one of the great things about this DNA test is it can help you anticipate certain health problems, such as whether or not your child is going to suffer from near-sightedness.
Social Interaction – some people prefer to be left alone when they are having issues, others seek the comfort of a friend. Find out what type of person your child is going to be on a social level. This will help you and others understand how to deal with your child when they are having issues.
Special Offers
The price for our Children's DNA Discovery Test is just $119. We also offer a special discount if you take 2 Children's DNA Discovery Tests – just $218 for both.
We also have the following LIMITED AVAILABILITY OFFER where you can add a Diet and Nutrition DNA Test for an adult at only $152 or add a Wellness and Lifestyle DNA Test for an adult at only $121.
This is just a sample of some of the results you are going to find in your final report after we analyse your child's DNA. Results usually take 6 weeks from the day we receive the DNA sample.